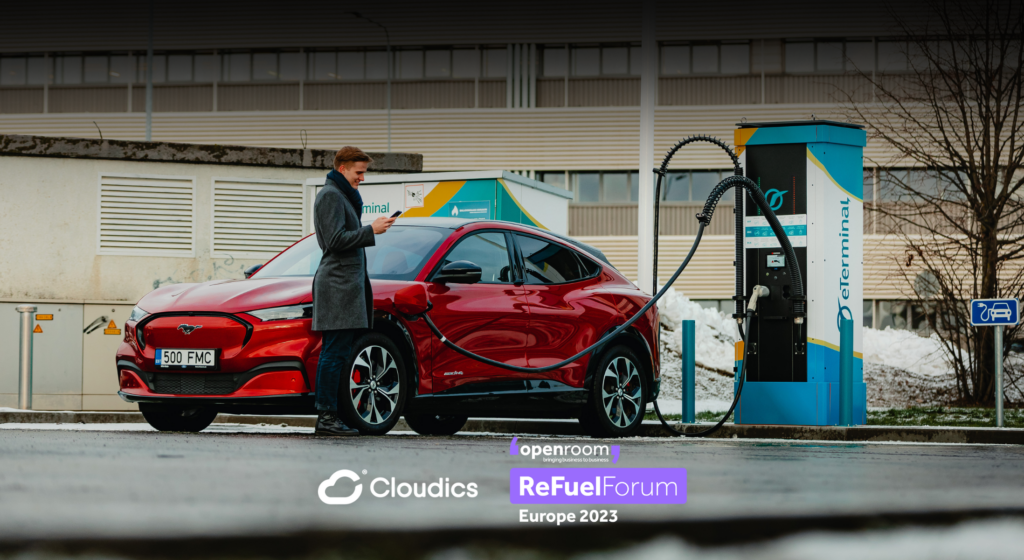 Cloudics is attending ReFuelForum Europe 2023
Postitatud: [su_post field="post_date" default="-" filter="su_post_shortcode_custom_date_filter"]
ReFuelEurope by OpenRoom is a high-energy networking and industry collaboration event.
It is a gathering consisting of pre-arranged one-on-ones, informal networking and lively debates led by key figures in the industry. The event aims to give a 360-degree overview of what's needed to take your business forward in the fuel industry.
We are happy to announce that Cloudics International Sales Director, Gary Szendielarz, will represent our company and provide unique insights into our cloud-based platform.
Here are some thought-provoking ideas you hadn't probably considered when evaluating Cloudics as a business platform.
Cloudics is more than just an app.
We have APIs to make already developed or new white-label branded mobile applications stand out from the rest.
Our cloud-based platform is designed specifically for fuel retailers, offering a range of powerful features and functionalities.
We can help you develop and enhance your existing app through our teams working with consultants. Cloudics team has years of fuel and convenience experience and is ready to assist in perfecting your app.
Our goal is to help you recognise the value behind the mobile app., and we can provide the engine behind it.
Access every profit area on your forecourt, C-Store, and more!
Suppose your existing mobile app only offers basic features like loyalty recognition, post-pay functionality or allows customers to check fuel prices.
In that case, we are here to assist you and take it to the next level.
With Cloudics, you benefit from our expertise in fuel retail-specific features and gain fast access to secure multi-region payment technology through a single API.
Our API-ready platform will give you access to every single profit area on the forecourt. You can use the Cloudics Smart Device to convert legacy and non-IoT devices to be IoT-ready and controllable from the app.
You will be able to unleash the power of the Ecosystem and gain fast access to value-added services. From loyalty programs, subscription-based services and advanced reporting to frictionless entry and shopping functionalities.
Set up stations quickly, efficiently and at a low-cost, thanks to access to our cloud-based forecourt controller (FCC).
With Cloudics, all the forecourt equipment dispensers, wetstock, price displays, car wash, and EV chargers become IoT devices. The station can be managed from the cloud, enabling instant access to remotely control and manage all your devices without being on-site.
All you need for an energy station setup is a wetstock, dispenser and Cloudics platform.
We combine the station's software and hardware and optimise its operations. You can manage your station through a cloud-based FCC, minimise on-site service costs, and lower regular software fees.
Enable EV at the flick of a switch through the Cloudics platform thanks to the built-in CPMS
Fuel stations are in a prime position to reassure EV drivers of their range anxiety and provide availability.
A recent study suggested that most EV drivers would prefer charging at fuel stations if they could – and that means the oil & gas industry has to gear up for a quick transformation.
As an advanced cloud platform, we integrate charging points effortlessly into your current infrastructure and ensure a comfortable and quick entry into e-mobility.
Our platform is perfect for a fast market entry. It can be adapted to the company's individual needs and grow with client requirements as they develop.
Our built-in CPMS (Charge Point Management System) allows you to monitor and manage the whole charging network.
A powerful management tool paired with a white-label payment solution allows your company to deliver a high-quality customer experience and strengthen its brand.
Lastly, cloud-based solutions are better equipped to adapt to the fast-paced business world and are ready for whatever comes next.
If you are curious about the Cloudics platform and wish to know more, don't hesitate to contact us and let's set up a demo.
---
Are you ready to take your business into the future?
Connect with Gary on LinkedIn or contact us via e-mail:
Learn more about Cloudics at www.cloudics.com
Regarding any questions, contact us:
info@cloudics.com
+372 628 0000
Cloudics
Future of Energy Stations